History Encounters
History Encounters takes elementary and middle school-aged groups on a remarkable journey beyond the classroom, where students experience history in an immersive and tangible way.
A Historic Opportunity
This enthralling opportunity features captivating recounts of historical events, excursions throughout the Northeast region to sites abounding with significance, and interactions with nationally recognized historical actors embodying icons such as George Washington, Thomas Jefferson, and Abigail Adams. Enjoy as history is brought to life before your eyes!
Begin your own history encounter; reach out to Freedoms Foundation today. Have a question or want more information about our student programs?
What does History Encounters Include?
Your History Encounters experience includes on and off campus activities, with ground transportation provided to key historical sites brimming with significance, beginning at Freedoms Foundation's centralized Valley Forge campus.
Student groups explore historical locations in Philadelphia and can add day trips to Washington, D.C. or New York City. Freedoms Foundation provides a focused educational experience free of coordination challenges so your students can spend every moment absorbing the lessons of America's past.
On-campus activities will include a detailed focus on our country's founding documents and principles and the past civic heroes behind them.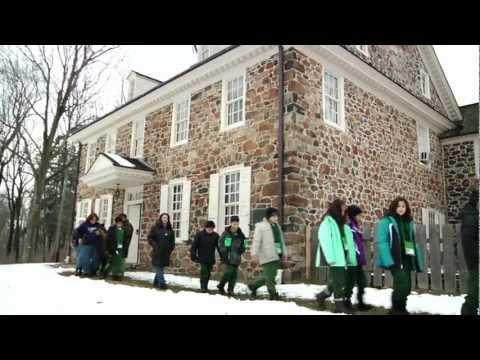 Journeys Through History
Visit historic locations in greater Philadelphia, with optional day trips to New York or Washington, D.C:
Philadelphia Area
Independence Hall
Liberty Bell
Valley Forge
Museum of the American Revolution
Washington's Crossing
National Constitution Center
Amish Country
New York
Statue of Liberty
Empire State Building
9/11 Memorial
Times Square – Broadway
Rockefeller Plaza
Grand Central Terminal
St. Patrick's Cathedral
Washington, DC
Smithsonian Museums
US Capitol Building
National Archives
White House
Supreme Court
Memorials on the National Mall
Arlington National Cemetery
History Encounters to Remember
FAQ
Cost
How much does it cost?
Costs vary based on where the group is visiting and their length of stay. 
The all-inclusive History Encounters program includes meals, room accommodations on our Valley Forge campus, guides, bus transportation to historic sites, and admission fees. 
Airfare is not included; however, we have a preferred travel agent who can provide direct assistance. Inquire with our staff today to learn more.
Is financial assistance available?
Freedoms Foundation can provide various fundraising ideas that allow greater accessibility to the History Encounters program to those who wish to attend. Please contact us to learn more.
Campus
What are the sleeping arrangements?
Freedoms Foundation's campus has three dormitory buildings. Rooms can sleep two, three, four, or five students, and all rooms have either a private bathroom or a jack & jill bathroom. Bedding, pillows, and towels are included.
Can the building accommodate my needs?
Though the campus was built in the 1960s and 70s, every building has a ramp entrance, and we have rooms that can accommodate various needs. Our tour buses have handicap and wheelchair entrances. Some historical sites may not be ADA accessible.
General
How long is the trip?
Most History Encounters experiences span one week (Monday – Friday). Certain groups opt to extend their travel, while others have chosen to spend less time.
How many individuals can attend?
Freedoms Foundation can comfortably house 110 students and chaperones on its Valley Forge campus. If a group exceeds this number, multiple trips can accommodate all participants.
Will I have free time?
Students' experience will be filled with exciting content balanced with free time with their peers. Our campus includes an indoor game room, outdoor basketball, and volleyball courts, and plenty of open space for pickup games.
Does Freedoms Foundation have wifi?
We offer free wifi to our program attendees.
How much is physical activity involved?
There is a moderate amount of walking on our campus and at historic sites.
How much money should I bring?
Since this is an all-inclusive journey, there are only two real reasons for students to bring money: souvenirs and snacks. Everything else, including all meals, is included.
What about class time missed?
Travel is a great learning experience, especially when you travel with Freedoms Foundation. This is not a vacation but an educational experience. Participants will visit one-of-a-kind historical locations and learn about thinkers, inventors, artists, scientists, and politicians who accomplished great things while also gaining insight into how people lived their day-to-day lives.
What if I miss games and practice?
This is a once-in-a-lifetime educational opportunity, and as such, we ask parents and students to weigh it next to other commitments like sports and work. If possible, it is always helpful when the school administration alerts coaches of impending class travel, giving them adequate time to adjust schedules.
Donate Today
Supporting America's first principles of freedom is essential to ensure future generations understand and cherish the blessings of liberty. With your donation, we will reach even more young people with the truth of America's unique past, its promising future, and the liberty for which it stands. Help us prepare the next generation of leaders.