Spirit of America Youth Leadership
Spirit of America Youth Leadership is a transformative four-day residential program that engages high school students in grades 10-12 from across the country with the first principles of freedom.
The Spirit of America Experience
The students' experience is filled with inspiring and educational activities, including a mock congressional debate, free enterprise challenge, workshops, and historical site visits while developing their leadership skills and identifying their future contributions to society. Students live on campus throughout the duration of the program and create new lasting friendships with peers from across the country.
For questions or more information, please contact us at spiritofamerica@ffvf.org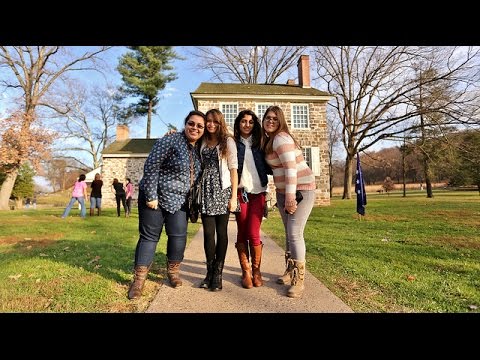 Spirit of America Program Sessions
2023 Program Sessions
2024 Program Sessions
October 17-20, 2024
(Open to All Students)
November 7-10, 2024
(AMVETS or AMVETS Auxiliary Sponsored Students Only)
Interested in attending a program but don't know which date to pick?
To sign up, please click on a date above to complete the registration process.
To prepare for your trip, download the Spirit of America PDF below.
Chaperone Registration Links:
Want to Know More About SOA?
Make a selection below to find more information about Spirit of America.
What to Expect
Students in grades 10-12 will enjoy four days of focused, compelling educational experiences that will transform their understanding and appreciation of America's history and its promising future. They will grow close to the other students from across the country, improve their civil discourse, strengthen their leadership skills, and establish long-lasting friendships with their peers. Students leave inspired to do their part in securing the liberties that only an active citizenry can safeguard in their communities, guided by a greater appreciation for our history, ideals, and the relevance of our country's founding documents.
Please note the following is a sample schedule subject to change:
Have questions about the schedule or want a brochure? Contact us today at spiritofamerica@ffvf.org.
THURSDAY:
Registration
Dinner & Welcome
Orientation & Introductions
Icebreakers
FRIDAY:
Breakfast
Living History Presentation
Freedom Summit Lecture & Debate
Lunch
Mock Congress
Small-Group Meetings
Dinner
Leadership Workshops
Swap Meet
SATURDAY:
Breakfast
Free Enterprise Keynote
Lunch
Tour of Valley Forge
Banquet
Keynote Address
Signer's Ceremony
SUNDAY:
Flag Ceremony
Breakfast
Tour of Philadelphia
Depart for Home
Spirit of America Program Activities:
Freedom Summit
Freedom Summit is a mock congressional forum where students learn to debate and find the balance between liberty and security. In this session, the students revise a bill of choice after a guided discussion of constitutional amendments and relevant legal cases on freedom and safety by an expert constitutional scholar.
Free Enterprise
The Free Enterprise Challenge provides an entertaining and stimulating way for students to learn about the American free enterprise system. Students receive a primer on entrepreneurship and work as a team to develop a product pitch presented to a panel of judges. Students will learn the value of collaborative creativity as they demonstrate their product's feasibility, utility, and marketability.
Medal of Honor Character Development
This segment teaches students about the six characteristics of the Medal of Honor – courage, commitment, integrity, sacrifice, citizenship, and patriotism – and actively identify how to apply those thoughts and principles to their own lives.
Five Pillars of Civic Responsibility
The Five Pillars of Civic Responsibility gives students a comprehensive understanding of Freedoms Foundation's Bill of Responsibilities. Through creating a community-based service project, they will demonstrate our five pillars: respect, participation, accountability, productivity, and generosity.
The Signers Ceremony
The Signers Ceremony is an exhilarating experience as the ghost of founding father James Wilson helps students understand the sacrifices made by the signers of the Declaration of Independence. Students consider, for the first time, that to sign the document in 1776 was to commit an act of treason.
Living History
Living history actor-historians from American Historical Theatre allow students to learn from and interact with some of the most significant figures in American History. Characters such as Thomas Jefferson and John Adams step out of the history books and into the room, helping students understand that great people were still people with personal motivations, problems, fears, and triumphs.
Historic Sites
Valley Forge
The Valley Forge National Historical Park visit allows students to walk across the hallowed grounds of George Washington's encampment at Valley Forge. Accompanied by expert guides, students are presented with the challenges of the notable volunteers who sacrificed so much to forge the United States. During their time, they visit the encampment, the National Memorial Arch, Wayne's Woods, the statue of "Mad" Anthony Wayne, Mount Misery and Mount Joy, the statue of Baron von Steuben and the Grand Parade Ground, the George Washington Memorial Chapel, and Washington's Headquarters.
Philadelphia
This ultimate walk through the streets of history leaves students with a profound understanding of the birthplace of America. Students receive a ranger-led tour of Independence Hall and stand in the room where our country's founders adopted the Declaration of Independence and constructed the U.S. Constitution. The guided experience of Philadelphia explores additional historical sites such as the Liberty Bell, Elfreth's Alley, and Ben Franklin's grave.
Available Scholarships
Greater Philadelphia Area
Sophomore students who attend Philadelphia-area Catholic high schools are eligible for full Spirit of America Youth Leadership scholarships, courtesy of the Connelly Foundation.
Additional Opportunities
Additional scholarships are available to students who do not necessarily meet the criteria above. If you are interested in a scholarship, or if you would like to pay directly to attend a program, please contact us at spiritofamerica@ffvf.org.
What students are saying about our program
This experience taught me that even the smallest voice can make a difference, it taught me to better appreciate those who fought and died for our country, but most of all it rekindled my love for this country's history and greatly inspired me to learn more so I may become an even better citizen.

– Rebecca
I met so many wonderful people who have changed my life for the better. I learned many empowering things about my country that I never would have known. I feel infinitely more prepared to be an educated citizen and voter than I was prior to my trip.

– Emma
In my time at Freedoms Foundation, I have met the kindest and friendliest people. I have learned about civic engagement, leadership, democracy, and free enterprise from the most inspirational, knowledgeable, and well-spoken experts. I cannot overstate the impact these four days have had on my life.

– Evan
I have had a hard time connecting with people and getting to know them. This program has helped build a new foundation and given me the strength to go meet new people and build a community for everyone.

– Brice
FAQ
Cost
What is the cost and what is included?
This all-inclusive program is available at the low cost of $500 which includes program tuition, a private or semi-private room on our campus, meals, transportation and tickets to historic sites, and group tours. Freedoms Foundation will also pick students up from the Philadelphia airport to bring to our campus.
Students participating in Spirit of America are eligible for full scholarships provided by our partners. Students should apply for a program, or contact us, and scholarship opportunities will be discussed with the student. 
Direct payment is also available for students who do not qualify for scholarships. 
Please email us for further details about the cost of your specific program.
Does the cost include travel?
Philadelphia airport, or to and from Freedoms Foundation's campus, are the responsibility of the participant. Freedoms Foundation staff can transport students to or from the Philadelphia airport. Some chapters and partners may include transportation in their scholarship.
Travel to historic sites throughout the program are covered and handled by Freedoms Foundation.
Please email us for further questions you may have on travel.
Campus
What are the sleeping arrangements?
Freedoms Foundation's private, secluded 75-acre campus has three dormitory buildings. Rooms can sleep two, three, four, or five students, and all rooms have either a private bathroom or a jack & jill bathroom. Bedding, pillows, and towels are included.
Can the building accommodate my needs?
Though the campus was built in the 1960s and 70s, every building has a ramp entrance, and we have rooms that can accommodate various needs. Our tour buses have handicap and wheelchair entrances. Some historical sites may not be ADA accessible.
General
What should students pack?
We suggest the following: comfortable clothes; one pair of walking shoes; weather-appropriate gear; dress/formal outfit for presentation and banquet; charge cord for phone; necessary medications; and spending money.
Will students have free time?
Students' experience will be filled with exciting content balanced with free time with your peers. Our campus includes an indoor game room, outdoor basketball, and volleyball courts, and plenty of open space for pickup games.
Does Freedoms Foundation have wifi?
We offer free wifi to our program attendees.
How much is physical activity involved?
There is a moderate amount of walking on our campus and at historic sites.
How much money should students bring?
Since this is an all-inclusive journey, there are only two real reasons for students to bring money: souvenirs and snacks. Everything else, including all meals, is included.
What about class time missed?
Travel is a great learning experience, especially when you travel with Freedoms Foundation. This is not a vacation but an educational experience. Participants will visit one-of-a-kind historical locations and learn about thinkers, inventors, artists, scientists, and politicians who accomplished great things while also gaining insight into how people lived their day-to-day lives.
What if students miss games and practice?
This is a once-in-a-lifetime educational opportunity, and as such, we ask parents and students to weigh it next to other commitments like sports and work. If possible, it is always helpful when the school administration alerts coaches of impending class travel, giving them adequate time to adjust schedules.
What are your cancellation and refund policies?
Freedoms Foundation at Valley Forge reserves the right to cancel a program due to weather emergency, low attendance, or other unforeseen circumstances beyond our control. Should Freedoms Foundation cancel a program, full refunds will be made to all clients by the method the client originally paid. Please allow up to 30 days for refunds to be processed.
We strongly recommend travel insurance to protect your investment.
Cancellations made by the client must be received in writing and either emailed (education@ffvf.org), faxed 610.935.0522, or mail (PO Box 67, Valley Forge, PA 19481).
Cancellations made prior to 30 days before the start of a program will receive a full refund less the non-refundable deposit (variable by program) and any non-refundable expenses. Refunds will be issued in the same form payment was made. Please allow 30 days for refunds to be processed.
Cancellations made 30 days or less before the start of a program are subject to a Freedoms Foundation credit less the deposit and any non-refundable expenses (such as tickets or meals) which cannot be refunded, credited, or transferred.
Cancellations made less than 48 business hours before departure will receive no refund, credit, or transfer.
Donate Today
Supporting America's first principles of freedom is essential to ensure future generations understand and cherish the blessings of liberty. With your donation, we will reach even more young people with the truth of America's unique past, its promising future, and the liberty for which it stands. Help us prepare the next generation of leaders.